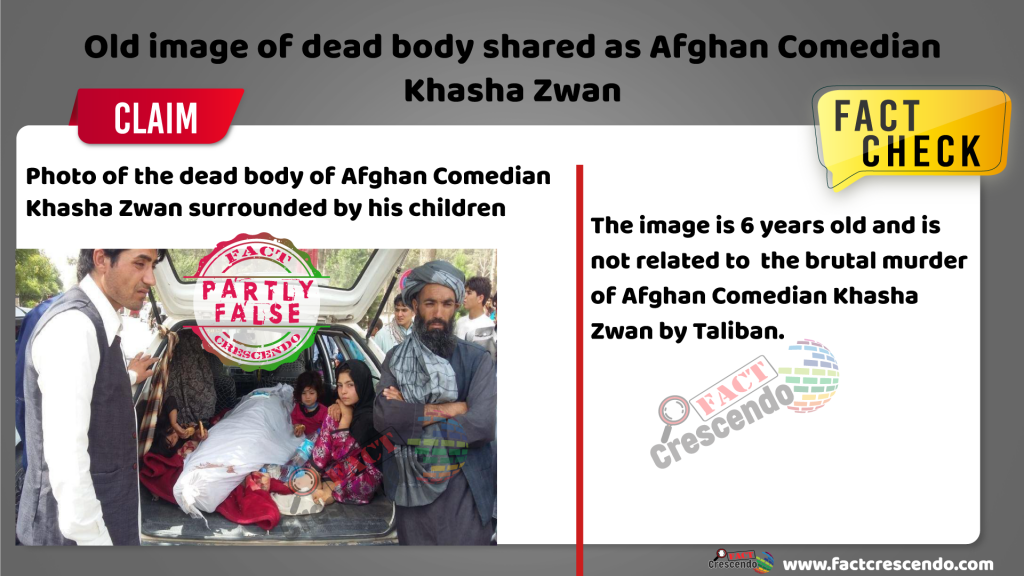 An old image of a dead body is being circulated among some social media users and media outlets falsely claimed to be of Afghan Comedian Nazar Mohammad popularly known as Khasha Zwan who was tortured and killed by Taliban in Kandahar.
A Facebook user by the name of Zahid Mohmand shared the image on July 27 in which a dead body can be seen with children sitting next to the body, the caption of the post claims that this photo shows children of Khasha Zwan sitting next to their father's corpse. The captions says: "Disappointment on faces, hopeless and helpless public of Afghanistan. The children of a local comedian "KHASHA ZWAN", sitting with the dead body of their father, abducted and killed by Taliban terrorists."
To view post: Facebook Post/ Archive link
This image is not only being shared on Facebook, but also on other social media platforms. The image has been widely shared on twitter as the dead body of Khasha Zwan. A twitter user Farooq Jan Mangal has shared the image with the caption: "Brutal assassination of Khasha Zwan on one hand but I will never forget slapping him in the car. He wasn't thinking he will be killed so brutally. His children & relatives with his dead body."
To view post: Twitter/ Archive link
Some media outlets have also shared the same image along with the report of Khasha Zwan's killing and claimed to be the dead body of Afghan Comedian.
To read the report: Website/ Archive link
Fact Check
We searched the photo by using Google Reverse Image search. It led us to a report by VOA-Dari that was published with the same image on June 14 in 2015. The report is about the clash between Taliban and the Afghan security forces in Herat district 6 years ago. "At least 5 killed and 20 others injured during a clash between Taliban and Afghan Security Force in Shindand district of Herat", says the report.
The report also says that these dead bodies were taken to Herat provincial government office in a rally urging to prevent the insecurities in Shindand district.
To view the post, click here-: Facebook Post/ Archive link
The killing of Nazar Mohammad was denounced nationally and globally. American Diplomat and US Ambassador to Kabul condemned the action of Taliban on twitter, saying 'we condemn these sickening actions and the Taliban leadership should too'.
Nazar "Khasha" Mohammad was a beloved comedian, bringing laughter & joy to his community even in dark times. The Taliban kidnapped & lynched him, then gleefully published video evidence on Twitter. We condemn these sickening actions & the Taliban leadership should too. https://t.co/hXROjj83eC

— Chargé d'Affaires Ross Wilson (@USAmbKabul) July 28, 2021
A video of Khasha Zwan went viral in which his hands tied back and sitting between two men, being slapped on his face several times before he was killed by Taliban. It can be seen on video that Khasha Zwan was asked to tell the story of his abduction before he was beaten.
Social media was flooded with the graphic visuals of torture of Khasha Zwan. "The slap on the face of Khasha is the slap on the face of all Afghanistan and it is against the human being and human dignity", said Afghan Second Vice-President Sarwar Danesh as a response to this heinous act in a Facebook post.
Conclusion
It is clear from the fact check that the image of a dead body being circulated as Khasha Zwan on Social media is not related to the barbaric murder of the Afghan comedian at the hands of Taliban. However, the news of Taliban's brutality on Khasha Zwan is true. Khasha Zwan was abducted, brutalized and murdered by Taliban militants.

Title:Old and Unrelated Image Shared as The Corpse of Afghan Comedian Khasha Zwan Murdered by Taliban…
Fact Check By: Fact Crescendo Team
Result: Partly False