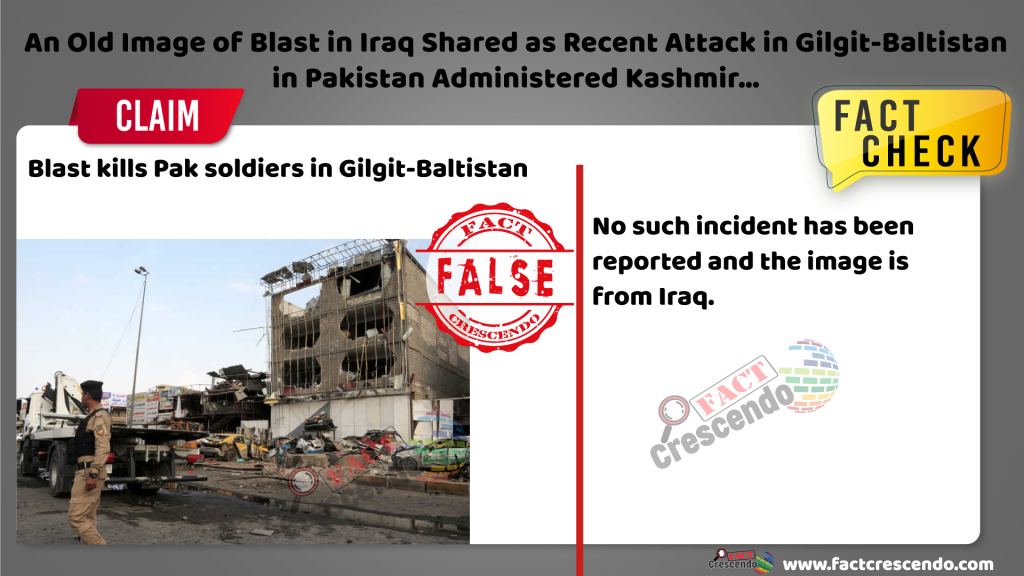 An image has gone viral on social media with a claim that the image is of the aftermath of a bomb blast that happened recently in Gilgit-Baltistan, which killed many Pak army soldiers.
However, when we did a fact check on the image, we found that the image has no relation with Pakistan and in fact it is an old image of a blast that took place in Baghdad. Let's check the details of the narrative and how we found out the actual context of the viral image.
Viral Claim on social media:
To view the original post- Facebook | Archived Link
In the screenshot given above, we can see a scene of destruction resembling the aftermath of an explosion or terror attack. The caption of the post in Pashto, claims that this image is from Pakistan and claims there was an explosion in Gilgit-Baltistan region. The translation of the caption is as follows:
"Fresh, Blast in Pakistan's Gilgit region! A number of soldiers were killed in the blast."
This is not the only post that is sharing the misleading information, a number of posts with the same caption and image can be seen in the screenshot shared below:
Let's find out whether the claim made about the image is true and has there been such an incident recently in Gilgit-Baltistan.
Fact Check
 In order to find out the truth about the viral image, we used reverse image search on google and it turned out as an old image from Baghdad blasts of October 2014. The following VOA news article published in 2014 says that the image belongs to a series of blasts that shook the eastern Shi'ite neighborhood of Talibayah in Baghdad, killing 36 people and injuring 98. The screenshot and link of the news article has been shared below:
To read the article, click here-VOA | Archived Link
The Islamic State of Iraq and Levant (ISIL), which subsequently became Islamic State of Iraq and Syria (ISIS) had carried out many terror attacks targeting foreign nationals, armed forces and also Shi'ite Muslims. This was one such attack in 2014, as it is evident from the news report.
We searched all the leading international media websites and local Pakistani news websites for news related to attack on Pak army in Gilgit-Baltistan. However, we could not find any news reports that suggest that there was such an attack. An attack on Pak armed forces would certainly make the headlines of every newspaper, however, there was no such reporting done by the Pak media.
Fact Crescendo also contacted Mr. Izharullah who is a journalist currently working with Independent Urdu. He confirmed that there has been no such incident reported from Gilgit-Baltistan recently. 
Conclusion
From our investigations, it is clear that the viral image is not from Gilgit-Baltistan but is a 7-year-old image of a blast that took place in Baghdad, the capital city of Iraq. There are no news reports of a massive terror attack on the Pakistan army in Gilgit-Baltistan region.

Title:An Old Image of Blast in Iraq Shared as Recent Attack in Gilgit-Baltistan in Pakistan Administered Kashmir…
Fact Check By: Fact Crescendo Team
Result: False