Some Indian media outlets and social media posts falsely claim that India has shut its consulate in Kandahar city after Security deteriorating while the Indian Official say that Consulate General of India in Kandahar has not been closed.
A Facebook page namely 'Indian Aerospace Defence News-IADN' posted the claim on July 10, 2021. It says: "India has temporarily closed the consulate in Kandahar after Taliban entered the city's 7th district." "Indian officials say the personnel would be transported back as soon as the situation improves around Kandahar city." Added the claim post. This post has received 29 shares on Facebook.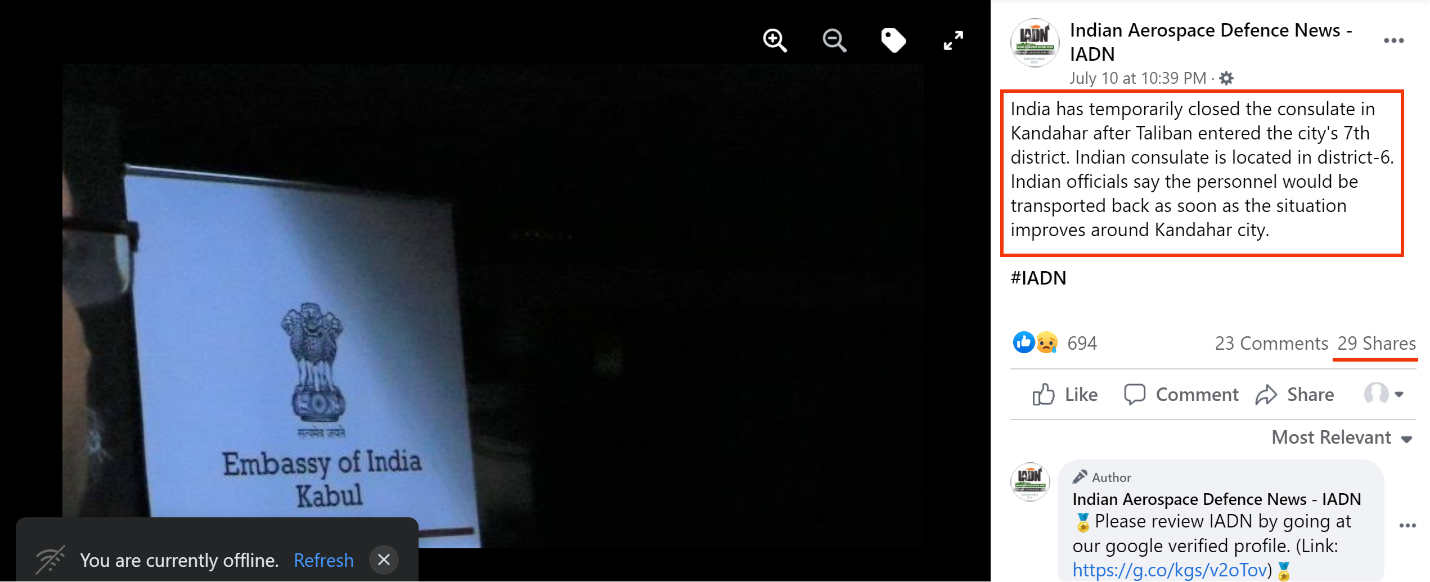 View original post here- Facebook Post/ Archive Link
This is not the only post that has claimed closing of Indian consulate in Kandahar. Another Facebook page has also posted the same caption.

View original post here-Facebook post/ Archive Link
However, these claims are not true as clarified earlier. Let's check out what is the truth.
Fact Check
We did Google keywords search. It led us to the statement of Indian Ministry of External affairs on Consulate in Kandahar, Afghanistan. The Official Spokesperson, Shri Arindam Bagchi has said in the statement that the Consulate General of India in Kandahar has not been closed. However, due to the intense fighting near Kandahar city, India based personnel have been brought back for the time being.
"India is closely monitoring the evolving security situation in Afghanistan. The safety and security of our personnel is paramount." Added Shri Arindam "I want to emphasize that this is a purely temporary measure until the situation stabilizes. The Consulate continues to operate through our local staff members."

Website/ Archive Link
Around 50 diplomats and other staff members at the consulate in Kandahar have been pull out in view of the "intense fighting near Kandahar city" India has said.
Our response to media queries on the Indian Consulate in Kandahar:
https://t.co/aQ0YPgl6Vf pic.twitter.com/DAPT3kYdM4

— Arindam Bagchi (@MEAIndia) July 11, 2021
Indian Embassy Issued a Security Advisory for Its nationals in Afghanistan on July 24 urging Indians to be cautious and vigilant as the security situations in Afghanistan remains dangerous. "All Indian nationals visiting, staying, working in Afghanistan are advised to exercise utmost vigilance and cautions with regards to security at workplace, place of residents, and also during the movement to their places of work." According to Security advisory.
It has also advised its national to avoid non-essential movements specially in peak commuting hours.
Security Advisory for Indian Nationals in Afghanistan@MEAIndia pic.twitter.com/snwaajCrq1

— India in Afghanistan (@IndianEmbKabul) July 24, 2021
Recently, Afghan government has imposed a night-time curfew to curb the surging violence in the country. "To curb violence and limit the Taliban movements, a night curfew has been imposed in 31 provinces, except in Kabul, Panjshir and Nangarghar", according to the statement of Afghan Interior Ministry. The Curfew will be effective between 10 pm and 4 am local time.
Taliban fighters entered Kandahar's Seventh police district on Friday where the Consulate is located. Meanwhile, the Afghan military said on July 10 that dozens of insurgents have been killed in fighting in Kandahar's Seventh Police District.
Conclusion
The Consulate General of India in Kandahar province of Afghanistan remains open. However, India has evacuated its diplomats and other Indian nationals from the consulate over security concerns. The local staff continue to work in the consulate.

Title:India has not closed consulate in Kandahar
Fact Check By: Fact Crescendo Team
Result: Partly False