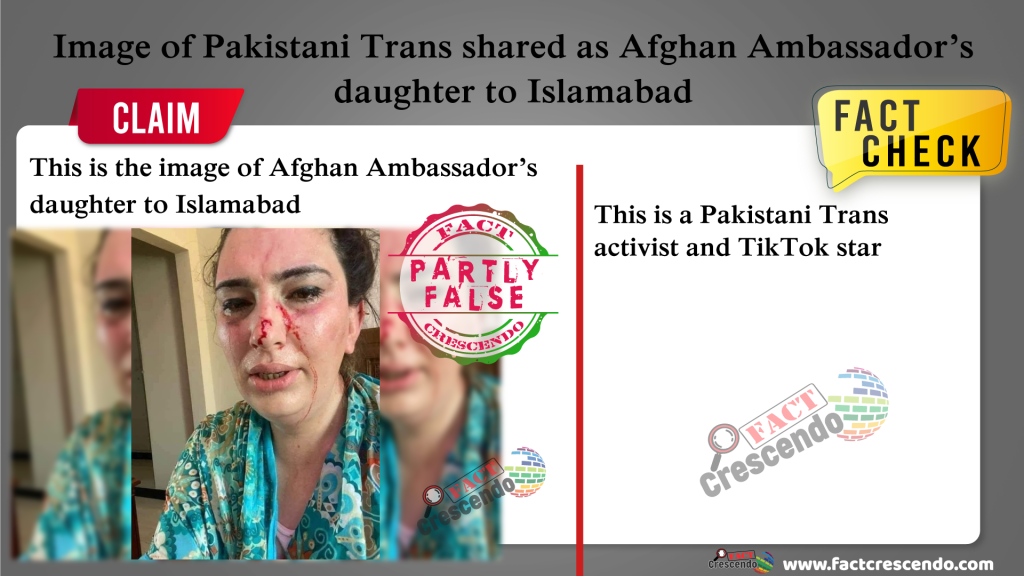 The image of a Pakistani transgender TikTok star is being shared as the image of Afghan Ambassador's daughter Silsila Alikhil who was kidnapped and tortured on July 16, 2021 in Islamabad while she was on her way home in a taxi.
This image is being shared widely as Silsial Alikhil by some Social media users and some news websites. The Facebook page "India Defence Now" has shared this image along with the news of Ms. Alikhil's kidnapping. The page says: "Daughter of Afghan ambassador who was kidnapped from Jinnah Super, Islamabad & thrown away after 6 hours of torture near Tehzeeb Bakery, Blue Area, Islamabad, badly tortured". This post has shared 18 times with others.
The image is also being circulating among twitter users. The twitter account "Geopolitical updates" has tweeted the same image with the same caption.
Some websites have also published the image of this battered woman as the daughter of Afghan Ambassador to Islamabad.
Fact Check
We searched the image using 'Google Reverse Image'. It led us to the Facebook page of a Pakistani Tiktok star Gul Chahat who lives in Khyber Pakhtunkhwa in Pakistan.
She has posted the image of her injuries on July 16 on Facebook saying there is no one in Pakistani Government to bring us justice.
Gul Chahat has asked for support in a series of live Facebook videos. She claimed that a person whose name was 'Mirwais' had assaulted her.
Meanwhile, the Afghan Ambassador to Islamabad Najeebullah Alikhil has posted the original and real image of his daughter on his twitter account in Pashto. He says: "I was forced to post a photo of my daughter's Silsila Alikhil here, because someone else's photo was posted incorrectly on social media, even though I don't know her at all".
په ډیری بښنی سره:
مجبور شوم چی د خپل لورکی سلسله علی خیل عکس دلته خپور کړم، چون په ټولنیزو شبکو کی د کوم بل چا عکس په غلطه نشر شوی، په داسی حال کی چی زه یی اصلأ نه پیژنم. مننه pic.twitter.com/Jjx2vQciKp

— Najibullah Alikhil (@NajibAlikhil) July 17, 2021
After Silsila Alikhil kidnapped in Pakistan, the Afghan Ministries of Foreign Affairs called back its Ambassador and some senior diplomats from the country. "Following the abduction of the Afghan Ambassador's daughter in Pakistan, the Leadership of the Islamic Republic of Afghanistan called back Afghanistan's Ambassador and senior diplomats from Pakistan until all security threats are addressed including the arrest and trial of the perpetrators of abduction" said the Afghan Ministry of Foreign Affairs in a statement.
Some protesters gathered in Kabul days after the incident to call on government to shut the Embassy of Pakistan in Kabul immediately till the investigation and justice are maintained. In the meantime, Pakistan's interior minister, Sheikh Rashid, has said that no evidence has been found to prove that Silsila Alikhil was abducted.
After the remark of Pakistan's Interior Minister, the Afghan Foreign Affairs says that premature judgments and remarks affect the investigation process and bilateral relations. Mohammad Hanif Atmar Afghan Foreign Affairs Minister spoke to Pakistan's Foreign Minister Shah Mahmood Qureshi regarding the ongoing investigation into the abduction of the Afghan Ambassador's daughter, expressing deep concern over the remarks of the Pakistan;s Interior Minister, according to the press release of Afghan Foreign Ministry. Mr. Atmar said: "unprofessional remarks and premature judgments could strongly affect bilateral relations and the credibility of the ongoing, and still incomplete, investigation".
"Expressing deep regrets and empathy, Pakistan's Foreign Minister said Ms. Silsila's case would be dealt with seriously as one of "our own daughters". As instructed by the Prime Minister of Pakistan, he added, the investigation would soon be concluded, and appropriate actions would be taken accordingly. Mr. Qureshi assured Minister Atmar of Pakistan's robust measures to ensure the security and safety of the Afghan missions and diplomats in Pakistan, added the press release of Afghan Foreign Affairs.
Conclusion
The image being shared widely as an injured Silsila Alikhil is actually of a Pakistani Tiktok star and Transgender activist Gul Chahat. However, the news of abduction of Ms. Silsila Alikhil, who is the daughter of Afghanistan's envoy to Pakistan, is true and the Pakistani government is currently investigating the matter.

Title:Image of Pakistani Trans shared as Afghan Ambassador's daughter to Islamabad
Fact Check By: Fact Crescendo Team
Result: Partly False