Flash floods in Afghanistan have ravaged many parts of the country claiming many lives.  The DariVOA reported on August 15, 2022 that more than 30 people died as the result of floods in SiahGerd and Shinwari districts of Parwan province. However, after the flood many social media users started sharing images of the flood. Some of which were found to be unrelated. 
Few social media users on August 20, 2022 published a picture showing the hands of a corpse submerged in sludge. They claimed that this picture is the photo of a victim of floods in Parwan province.
A website called Panjshir News also published the viral image claiming it be from the flood-affected regions in Paktia province. However, our investigation proved that the image is not from Afghanistan.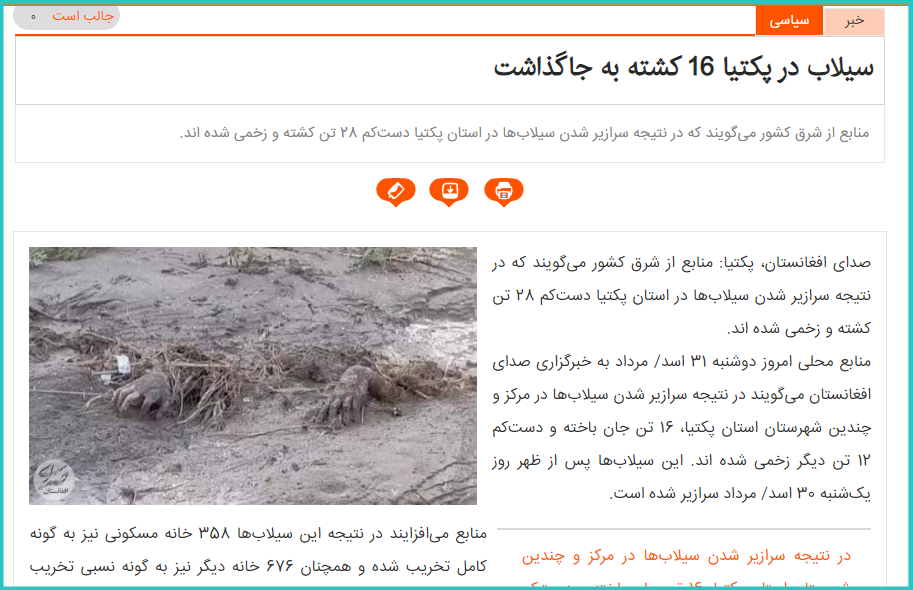 Click here to view the article – Panjshirnews | Archived Link
Fact Check:
According to the findings of Factcrescendo, the published image is a picture of the devastation by floods in Pakistan. Based on reverse image search, Factcrescendo found that a number of Pakistani social media users shared this image on August 19, 2022. The image shows a body discovered after floods in the Saraiki region of Pakistan.
Imran Gabol, a journalist with leading Pakistan daily Dawn, tweeted this photo from his verified Twitter account and described it as one of the dead bodies found after the flood in Saraiki Wasib.
We contacted Imran, who told us that this image is indeed from Pakistan. The image was clicked during relief operations in Taunsa Sharif in Punjab province of Pakistan. "An on-duty officer shared this photo with me", Imran added. He also shared with us another photo taken from the same spot. In this photo, we can see the rescue and relief workers digging the body out of the mud.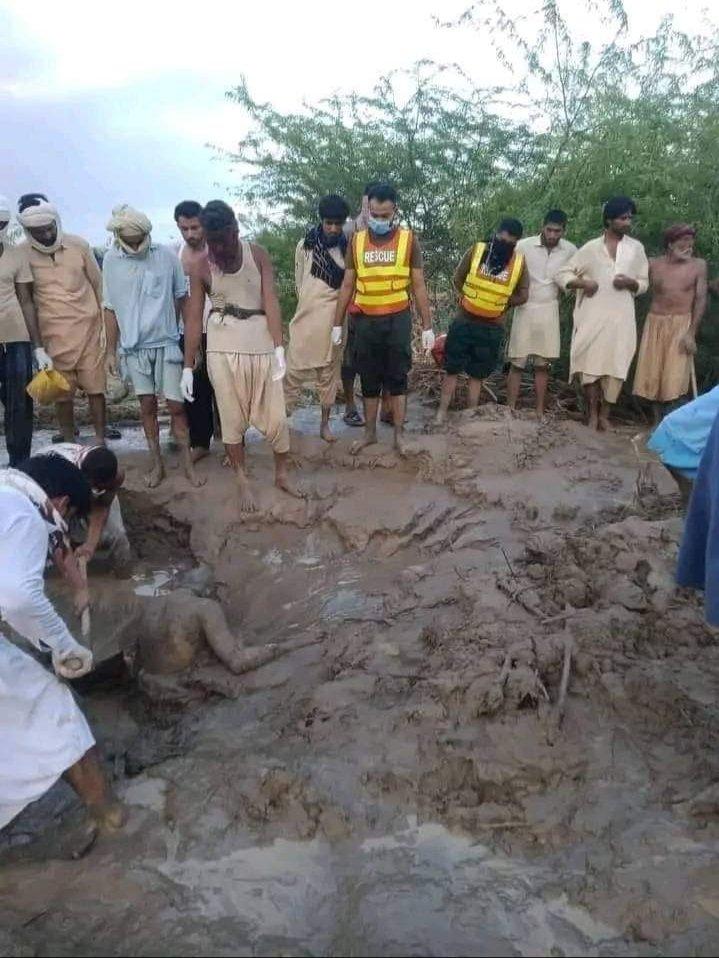 When we searched for relief works in Taunsa Sharif, we found the video of this rescue operation. In the video given below, from 1:12 onwards you can see the body being excavated by the rescue workers. The video shows many other visuals of destruction from the Taunsa Sharif town.
Taunsa Sharif is one of the worst affected cities in the recent floods in Pakistan. More than 200 villages have been affected by the floods. Officials in Pakistan have said that floods have killed 777 people over last two months.
Conclusion:
Factcrescendo found that the viral photo claimed to be of a flood victim in Afghanistan is actually from Pakistan. The image is not related to the recent floods in Parwan, Paktia or any other province in Afghanistan. The image was taken during rescue operations in Taunsa Sharif in Pakistan's Punjab province.

Title:Photo from Pakistan shared as a photo of a flood victim died in recent floods in Afghanistan
Fact Check By: Fact Crescendo Team
Result: False