The nation continues to mourn the tragic death of 6-year-old Haidar, who fell into a well in Zabul. Amidst all the condolences for the child and sympathies for the family on social media, social media users are purportedly sharing an image of Haidar.
However, Fact Crescendo found out that the image is not of Haidar but some other child. Let's check out the posts and the truth about the photo.
Claim: Many social media users shared along with the news of the fatal fall of a Zabuli child in a well a photo purported to be of Haidar. The image was circulated on social media pages after Haidar fell into a well in Zabul province on Tuesday, February 15, 2022.
The report of the fatal fall of the Zabuli child into a well along with the viral image has been published on Twitter as well. The users on February 18, 2022, posted that Haidar joined little Rayan in Jannah today. The users said that poor Haidar met the same fate as that of the Moroccan boy Ryan who died unfortunately after falling According to the users, after being stuck in a well just like Rayan from Morocco a week ago.
But not only the social media, some media outlets too published this image and reported that frantic rescuers work to free a sobbing 9-year-old boy who was trapped in a 33ft deep pit for days. According to these media reports, the boy (locally named "Haidar") was trapped in the well in the remote Afghan village of Shokok for two days.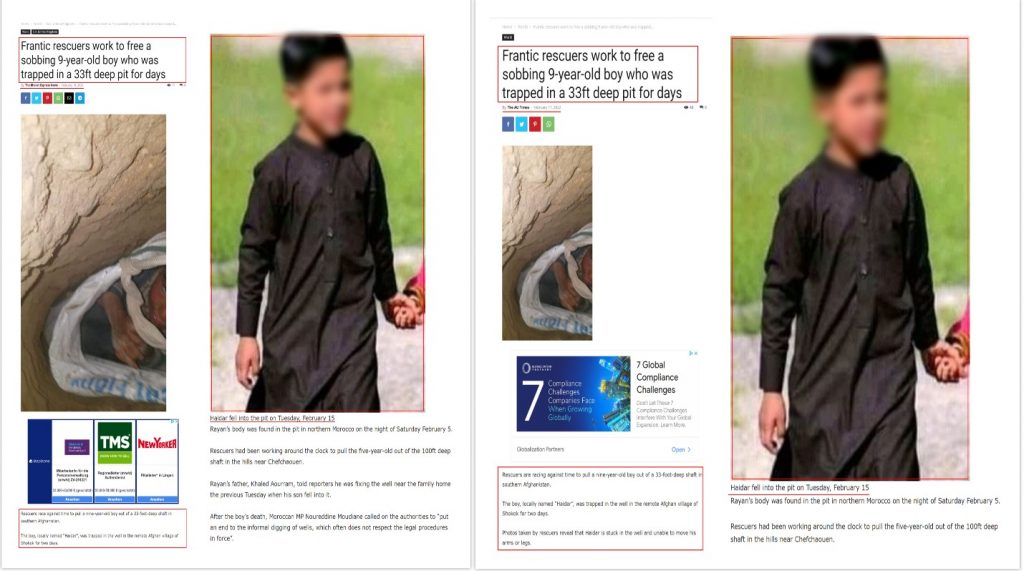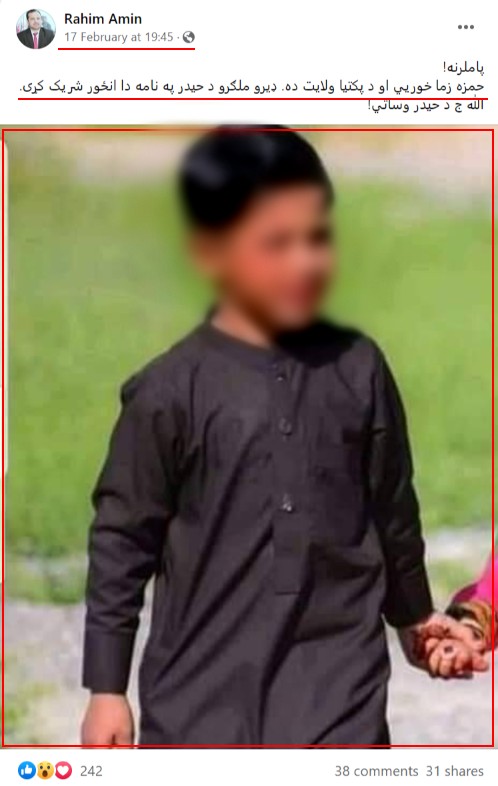 Factcheck:
We used reverse image search and found out that the child is actually Hamza, a resident of Paktia province.
On February 17, 2022, a user named Rahim Amin posted this image on his Facebook account introducing him as Hamza's uncle. Mr. Amin has confirmed that Hamza, his nephew is from Paktia province. He also pointed that the photo of his nephew has been published as image of Haidar by social media users.
On the other hand, a number of pictures that have been taken in the well during the rescue operation of Haidar and as well the pictures of his lifeless body show that Haidar is younger than Hamza.
On February 17, 2022, AlJazeera-Mubasher released a video in which Haidar, the child from Zabul was seen inside a well. In this video, young Haidar talks to a man who is at the top of the well and he was answering the man's questions while crying. In this video, it can also be seen that Haidar is wearing a blue cloth with embroidered sleeves.
On February 18, 2022, 072info published some pictures of Haidar and reported that he had died after spending three days in a well. In one of the pictures published by this website, it can be seen that Haidar was wearing a blue, embroidered cloth. A closer look at the video released by AlJazeera-Mubasher also shows this blue, embroidered cloth covering Haidar while he was inside the well.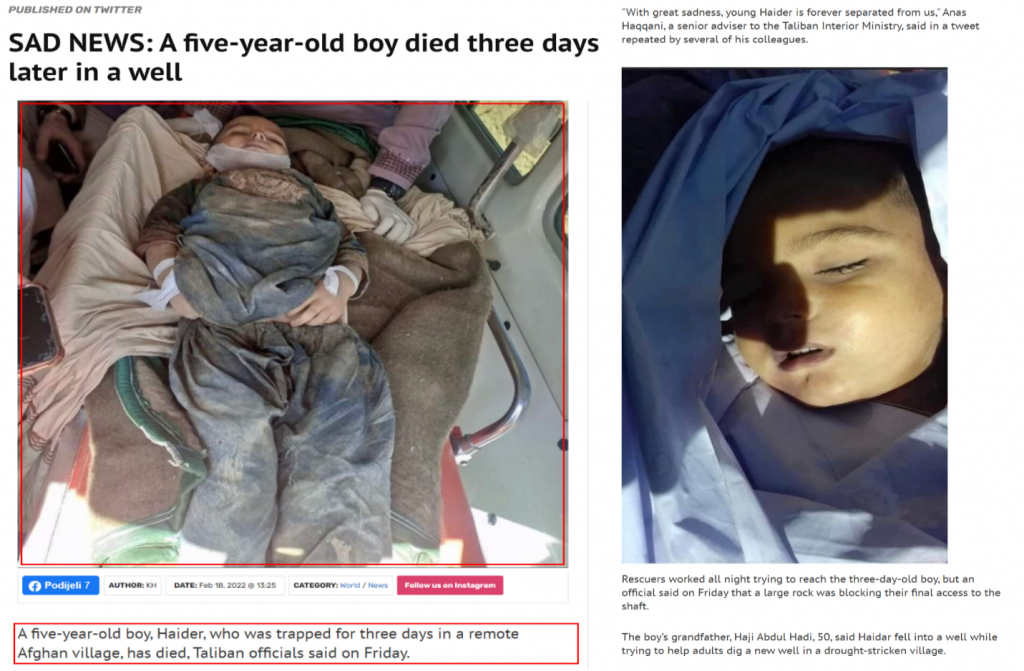 Result: It is clear from our fact check that the image being shared by some social media users and websites as Haidar, the boy who died tragically after falling into a well in Zabul is actually of another boy who is much older than Haidar and is doing fine.

Title:Another Child's Photo goes viral as photo of Haidar who died recently in an accident in Zabul…
Fact Check By: Fact Crescendo Team
Result: Partly False