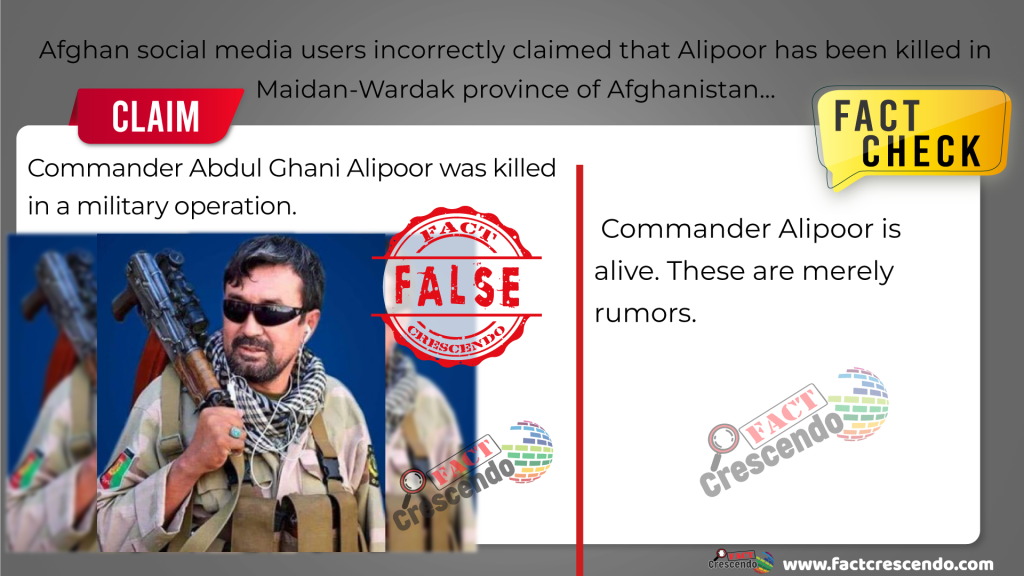 In Afghanistan, most of the social media users reported that Abdul Ghani Alipoor has been killed in a military operation. However, when we investigated about the viral claim, we found this news to be fake.
Claim:
On 19th February, the Afghan social media was abuzz with the news of death of Commander Abdul Ghani Alipoor was killed in a military operation. Many social media users posted this on Facebook and Twitter. Some of the posts making this claim are seen below.
Fact Check:
We searched for credible news reports on the commander's death but could not find any. However, we found reports in which people close to the Commander had refuted these viral social media claims. We spoke to many journalists' who contacted with the cultural official of the Resistance Front and with people close to Alipoor in Behsud. Their sources too refuted these claims. They clarified that Commander Alipoor is alive. When we examined the viral posts on social media, we found that none of these posts were from credible or trustworthy sources. They also lacked details of the operation in which the Commander was allegedly killed.
The Afghan government has also not made any declaration so far to confirm this news.
Conclusion:
Commander Abdul Ghani Alipoor's death news is just a social media hoax. No major media channels or government has made any such claim. Moreover, sources close to Alipoor have refuted these claims.

Title:FACT CHECK: Commander Alipoor Is Not Dead As Fake Viral Social Media Posts Claim…
Fact Check By: Fact Crescendo Team
Result: False